HubSpot has a lot of amazing tricks and features that help it integrate with SEO.
Can you control what your Google listing looks like. Yes. And no. Can you trick your way to the top of Google listings. No. And Yes.
Here is a short laundry list of things you can do to help Google pay attention to you. This tip list is oriented around HubSpot settings and integrations.
1) Settings | Website | Pages | Integrations
Hook up your Google Analytics to HubSpot. If you don't have GA, go and get it.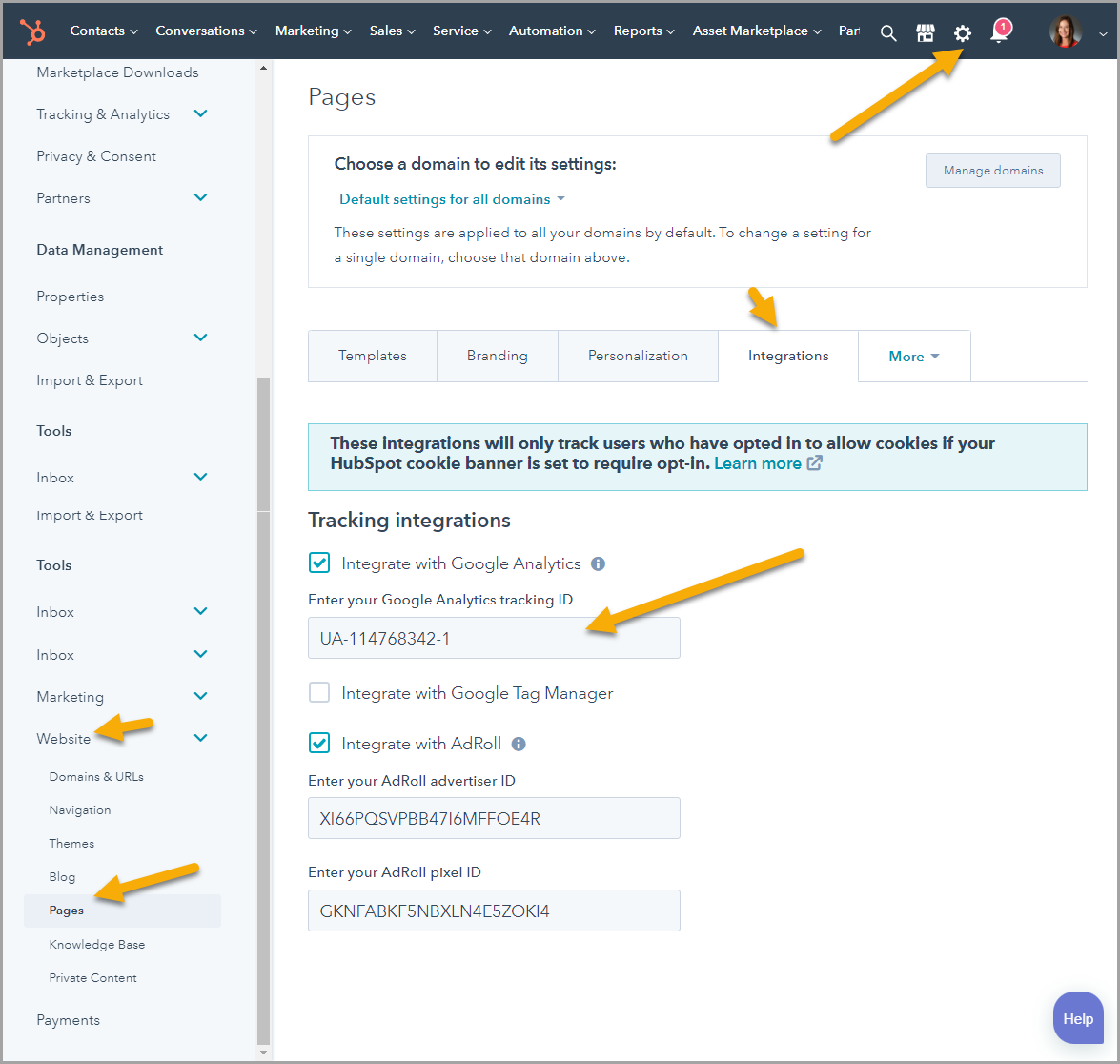 2) Settings | Integrations | Connected Apps | Google Search Console
Using this sometimes forgotten Google Search Console functionality, you can submit your website whenever you have a structure change, a page change, new content, and request Google crawl your site earlier, rather than waiting for Google to make its rounds. Steps to take your website live using Google Search Console straight from HubSpot. Follow them.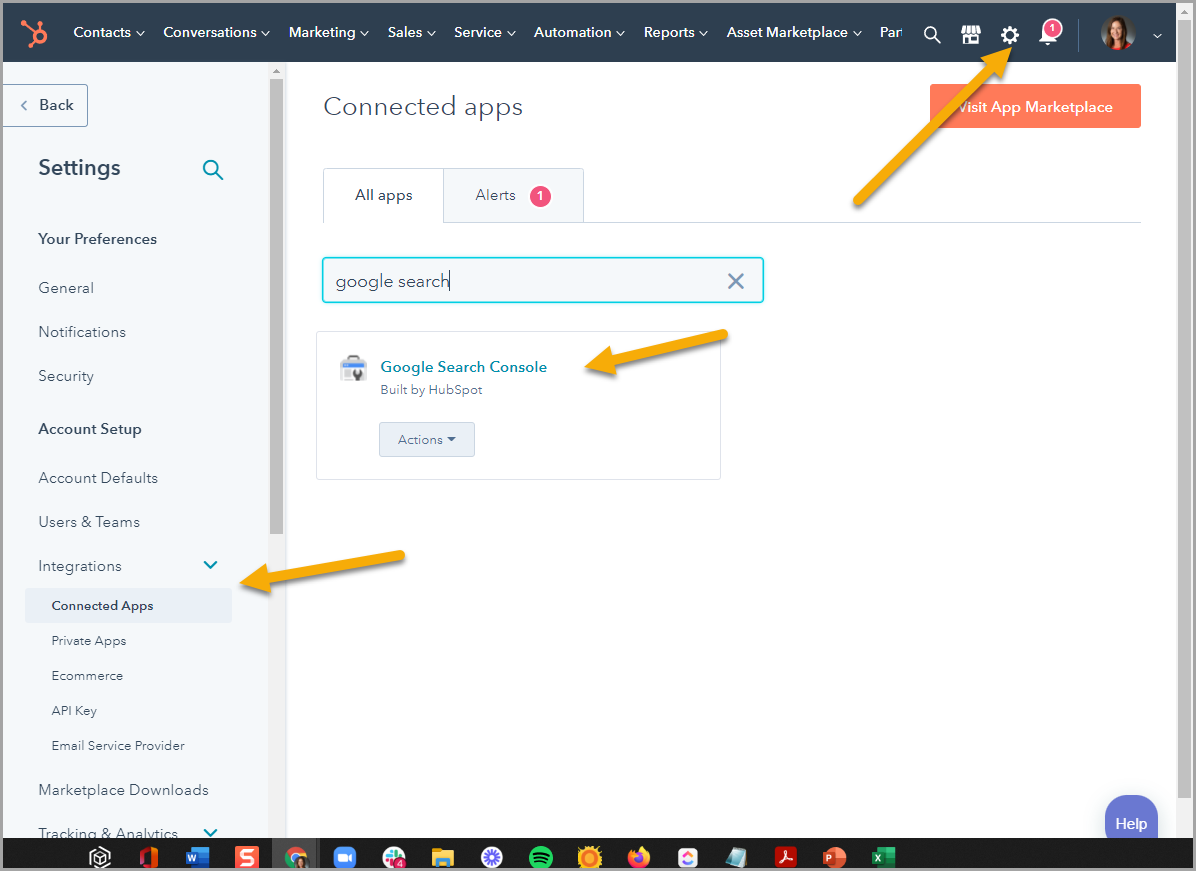 3) Marketing | Website | SEO
HubSpot has buried Google Lighthouse within it's app. Use it. Check your website every month or so for issues that sprout up. It gives you all kinds of tips that can work. And sometimes things that will make you roll your eyes, but go through it.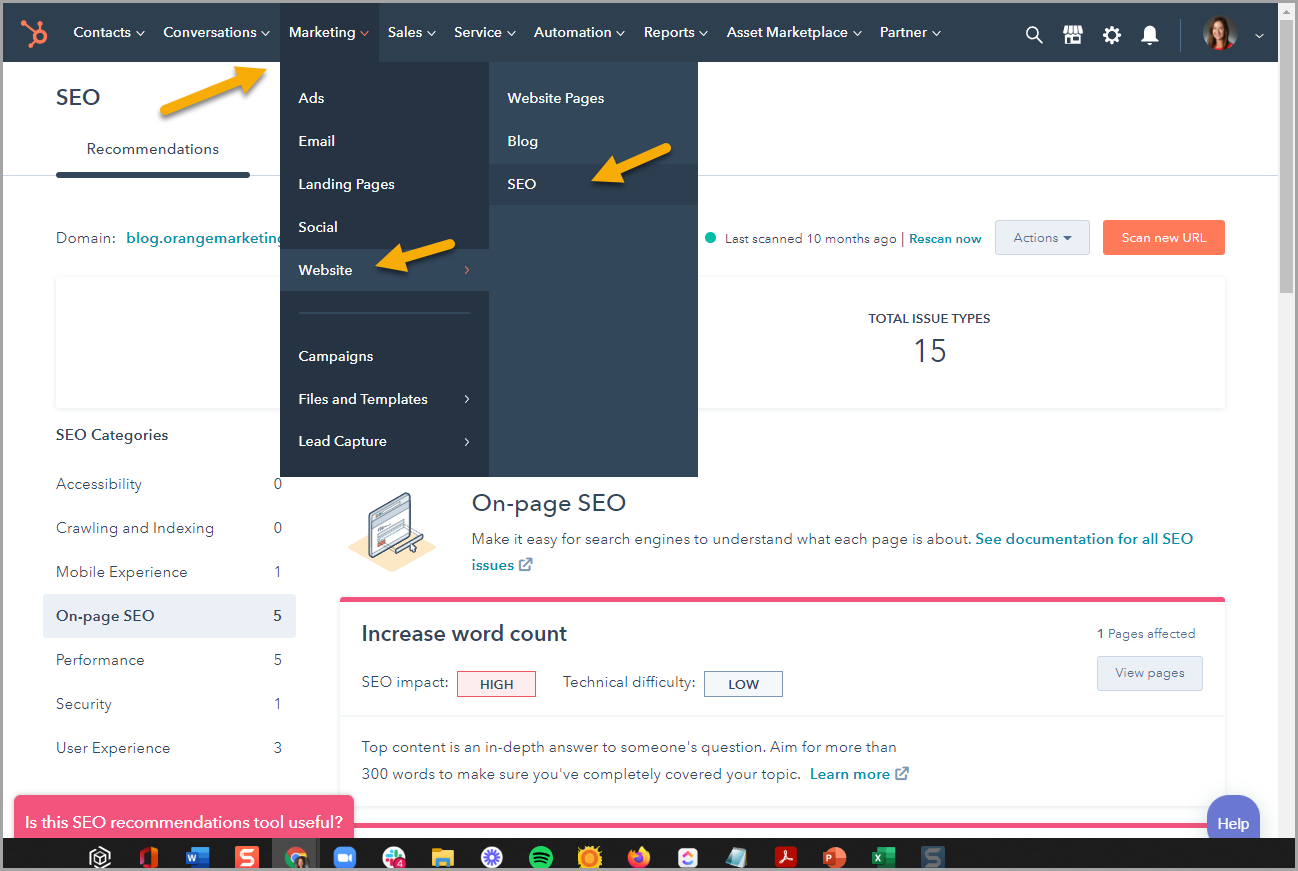 4) Marketing | Website | SEO | Rescan
And HubSpot/Google will remind you to rescan your website from time to time. It is a good idea to do it.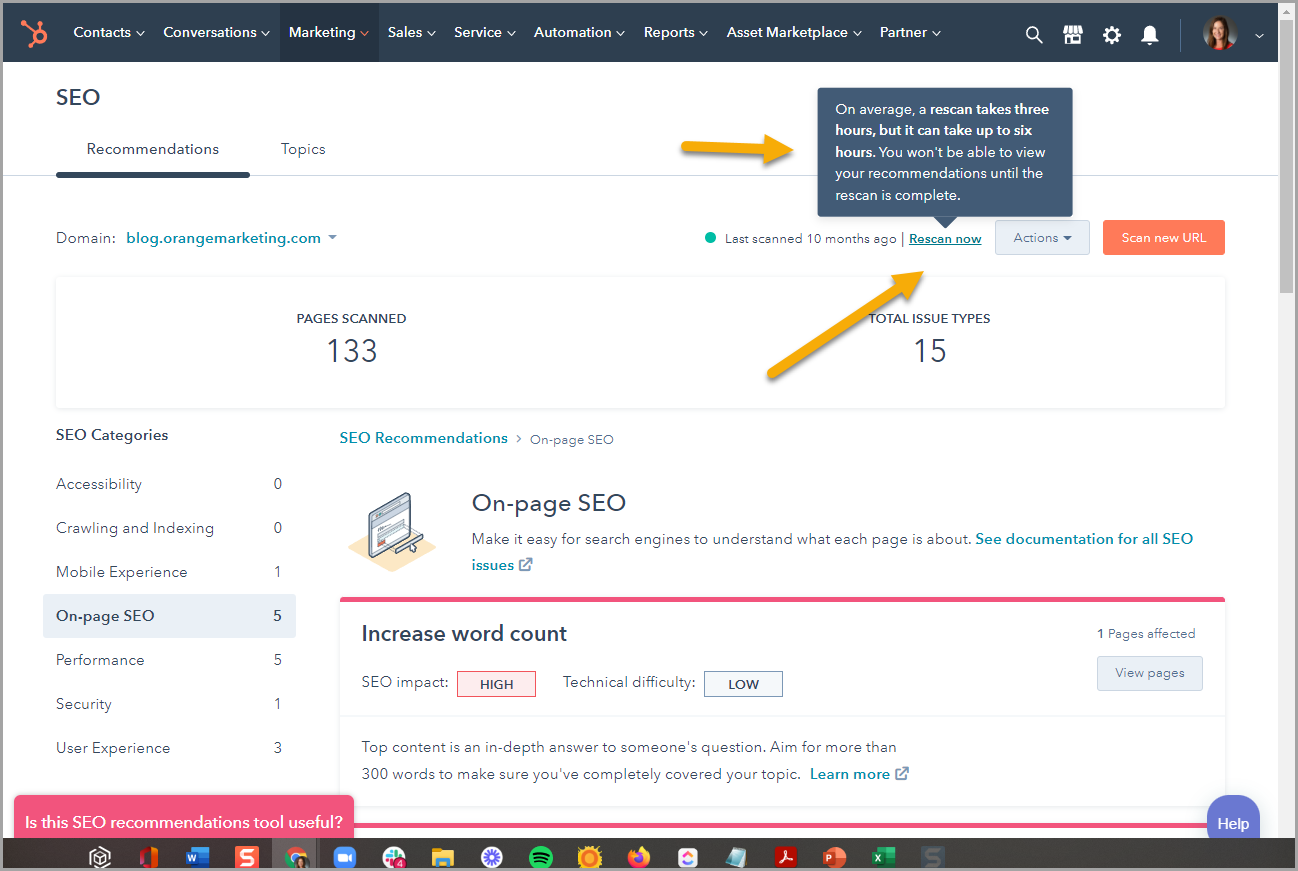 5) On-Page Meta Data
HubSpot is excellent at giving you places to put important Google information. USE IT consistently on every single page. We'll let you read the 8 billion articles on SEO on your own.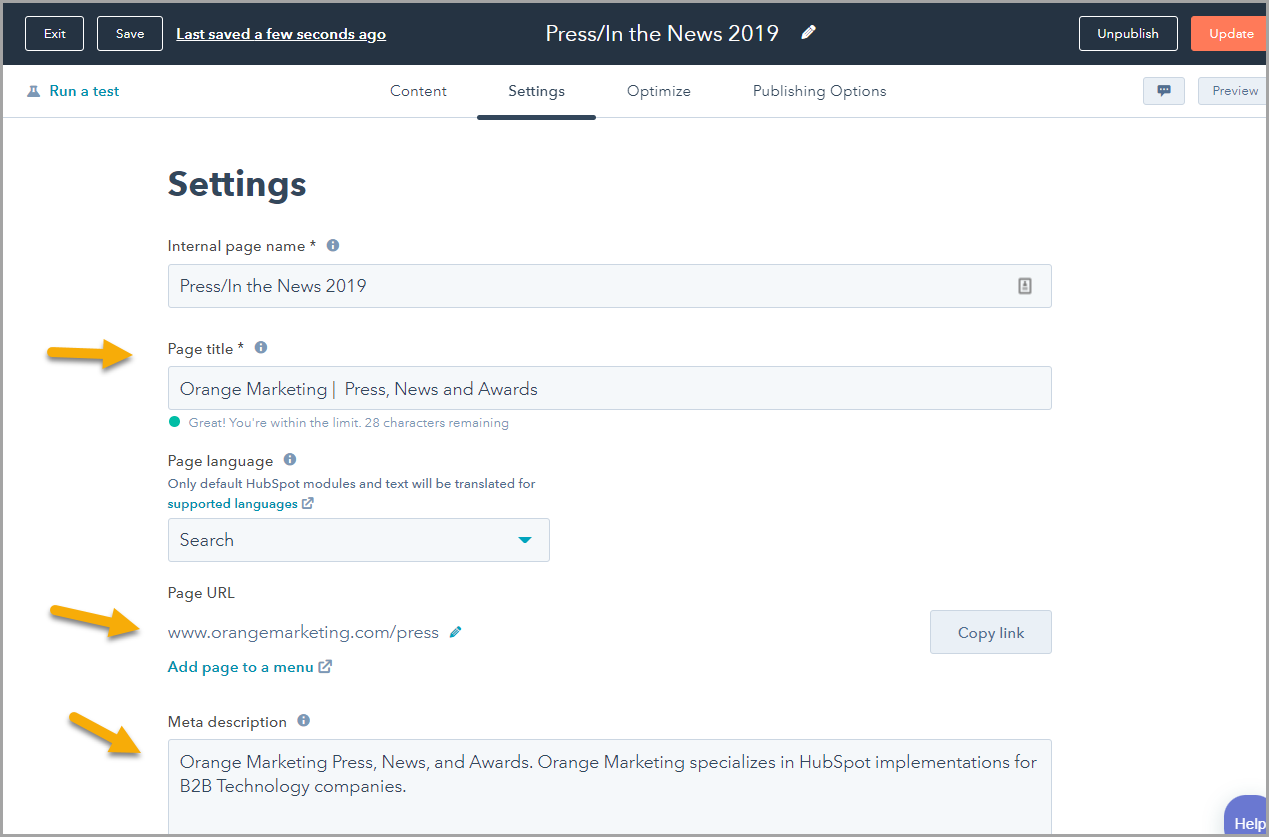 Great secret tip. Have a standard image for your company that works on social media in the recommended size (1024 x 512). Put it on every page with Alt Text. If any page is shared on social or is Google indexed, there will always be a "Favorite Image" for the internet to display and it will be your brand and logo.
6) Alt Text on Every Single Image on Your Website
Use meaningful Alt Text on all images on your website. In your blog, just put the blog post name (our favorite trick) in the alt text. Google will reward you in surprising ways. It is well worth the trouble. Feel free to make them long and explanatory.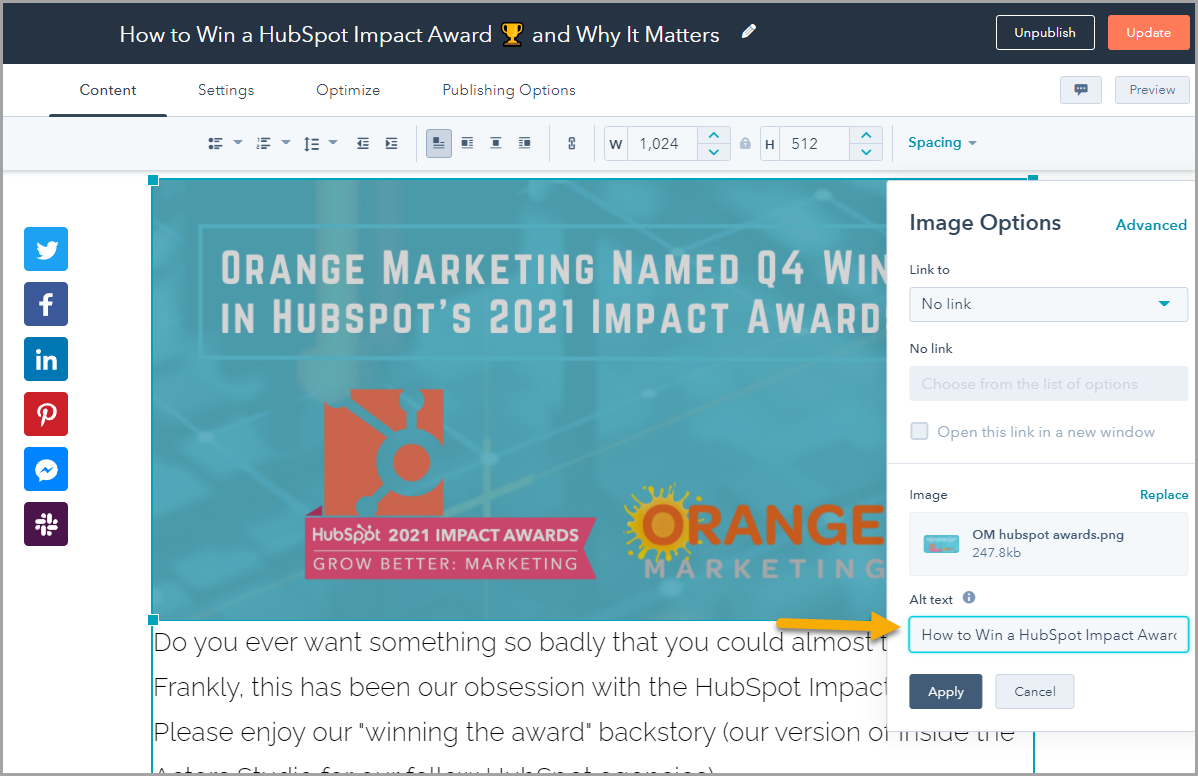 7) 404's
Do not allow your website to have 404's (page not founds). Google punishes 404s. As soon as you find a 404, redirect it to a proper page. Here is a tip article telling you how to track down those pesky 404s. And if in your search listing on Google, any link you click that is a 404 should be redirected right back to the home page..
8) Settings | Website | Domains & URLs | URL Redirects
HubSpot makes dealing with redirects easy. Redirect all your 404s to an appropriate page or the home page. Create vanity URLs. The sky is the limit. Just avoid redirects to redirects to redirects. Google again punishes you for this. It is hard to realize you are doing this without an advanced tool like SEMRush. Just be careful.
A vanity URL is show below... "https://www.orangemarketing.com/4q2021-hubspot-impact-award-case-study" is being forced over to https://blog.orangemarketing.com/marketing-and-sales-tool-consolidation-ignites-isostech-revenue-growth
due to us needing an open, uncomplicated URL for a press release.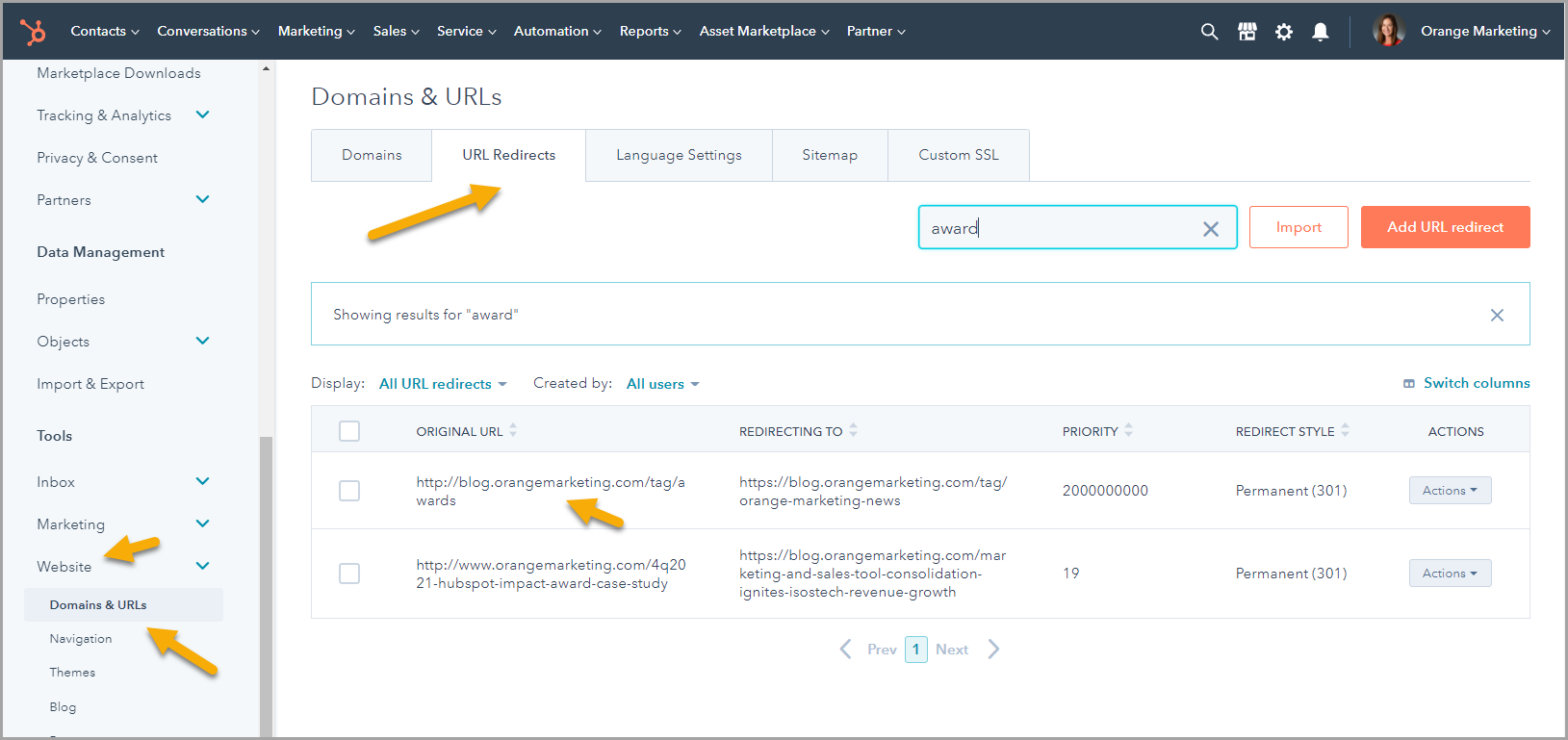 9) Setting | Website | Domains & URLs
Don't worry about using subdomains like blog.orangemarketing.com and help.orangemarketing.com. Google has grown up and is super smart. You don't pay a penalty for SEO by using that. This is an old-fashioned idea and don't let anyone boss you around insisting subdomains hurt SEO. It is a myth that using subdomains is bad.
Where you do get into trouble is by setting up a bunch of catchy domains that represent one business. Use subdomains. The reason is that by setting up multiple domains with various micro-sites (a very 2000s strategy), you are diverting Google SEO juice. Your business needs to concentrate and pour all of its effort into one domain if at all possible.
By focusing on one domain, you will elevate your Google rankings.
And if you have any choice at all, keep your domain simple and really easy to understand, if initial ranking is important to you. Our company is named Orange Marketing because orangemarketing.com was an available domain, we live in Orange County, CA and HubSpot's brand color is orange. But mainly, it is a rockstar domain. We were looking for anything with a color and the word marketing. If you can grab a .com do so, and stay away from .ai and .io. Even though all the cool kids have one. Eventually, it won't matter, but right now, in 2022 it still does.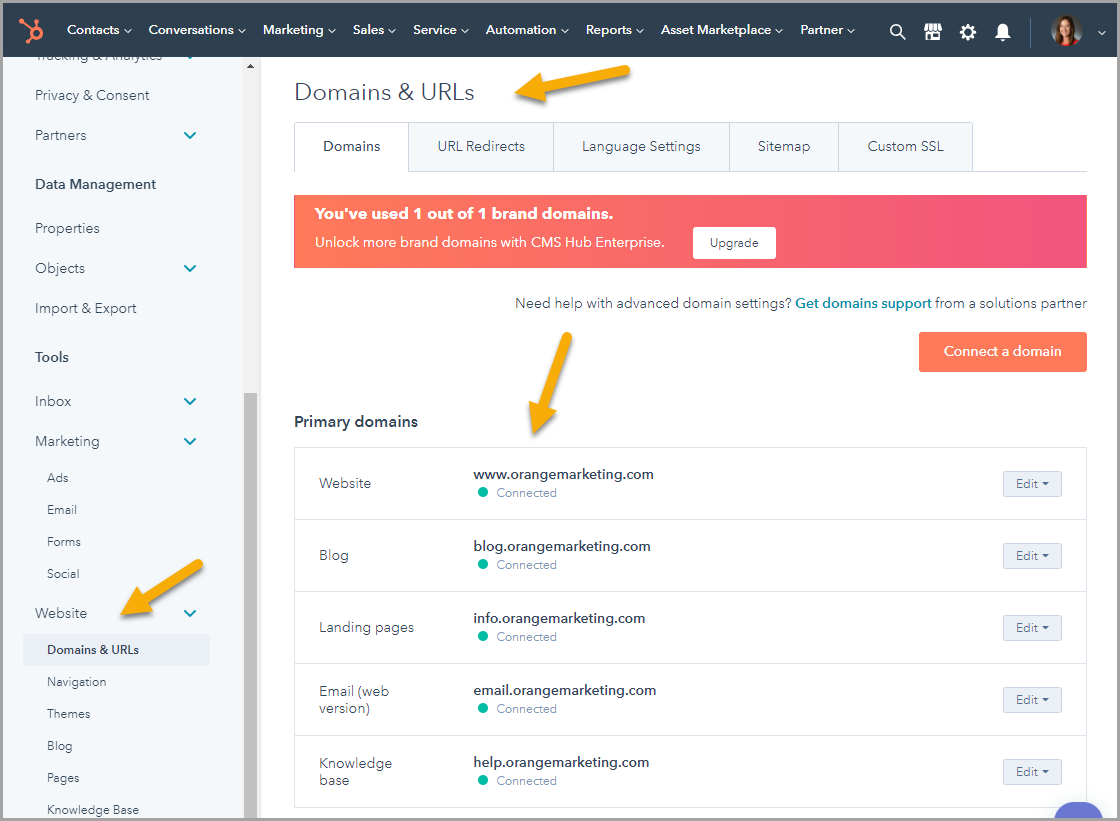 10) Interlinking
Your website needs to point to pages within your website. You have to show Google that you believe in what you are doing so much you link to your own content. We do it constantly. It's a strategy as old as the internet.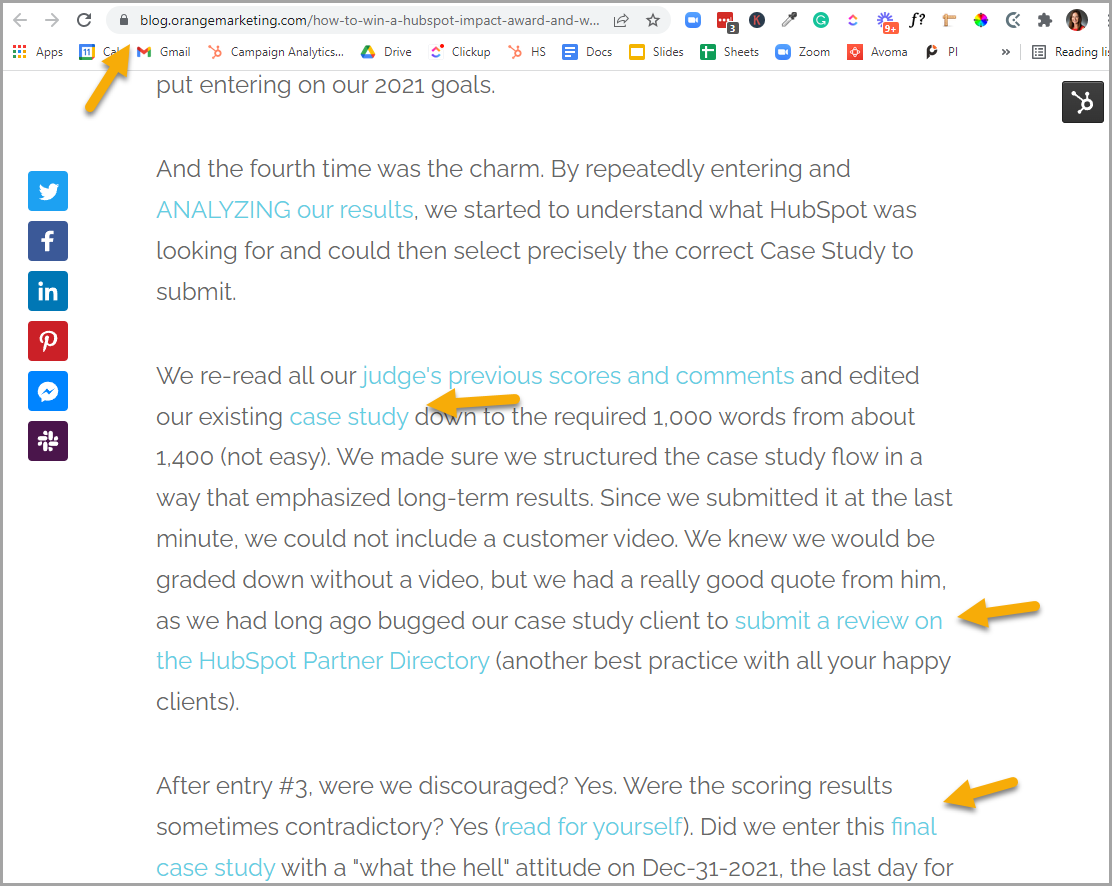 11) Content is King
Oh dear. We have written so, so many articles about content. We bore ourselves. There is no real way to trick to get a high ranking in Google. But there are many things you can do if you pay attention.
Write about your business.
Write long-format content about the problems that are important to your customers and prospects. We and HubSpot call them pillar pages or topic pages. Read our Pillar Page Guidelines because Google likes these pages formatted a certain way. And here is one of our pillar pages: The Truth About B2B Marketing.
Publish frequently. At least monthly if at all possible.
A blog strategy helps you achieve this goal because a blog post page is a website page to Google. That is why people blog ... to keep a steady stream of content on the internet.


Some of our content blog posts.
5 Steps to Effective Content Marketing Campaigns: Free Checklist
5 Minute Video: Creating Content Quickly
Focus Content to Hook Leads - You Only Have Seconds
BioMedGPS SmartTRAK Plays the Long Game With Content Marketing
12) Analyzing Results: Reports | Analytics Tools | Traffic Analytics
Our favorite out of the box report in HubSpot Traffic Analytics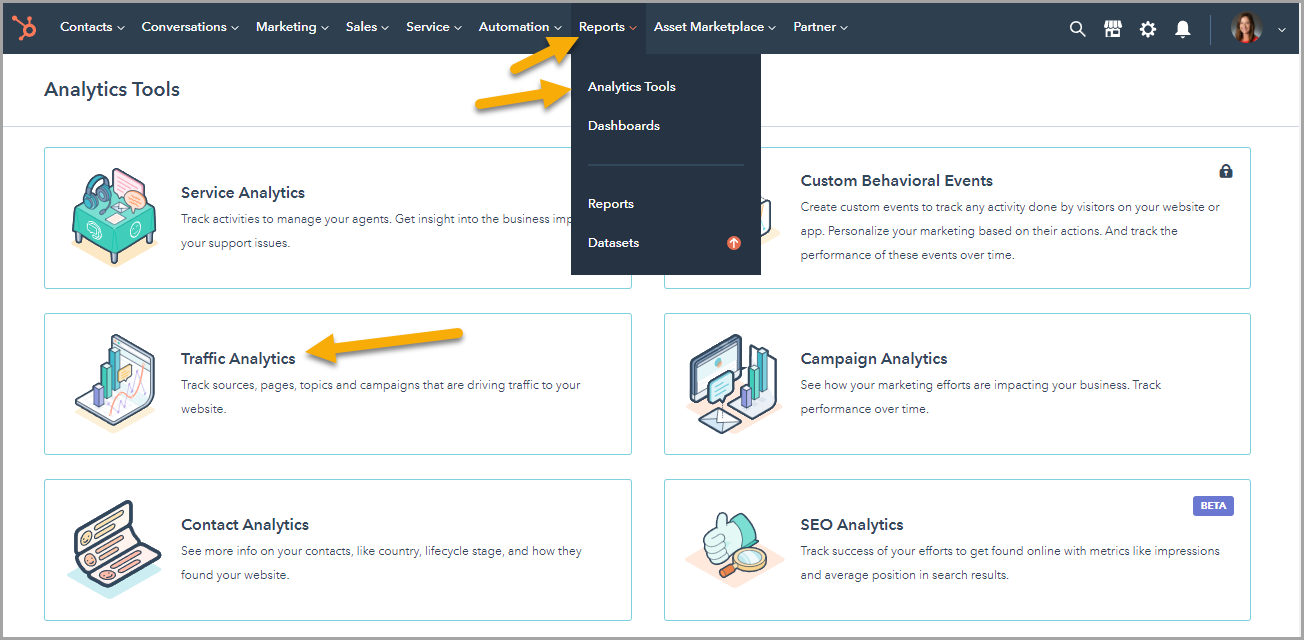 In the Orange Marketing chart below, we are showing a combination chart of sessions to conversion rate. We would like to see a conversion rate of new contacts to sessions of 1% to 2%. The more sessions we get, the lower the conversion rate, as you see our traffic becomes of less high quality.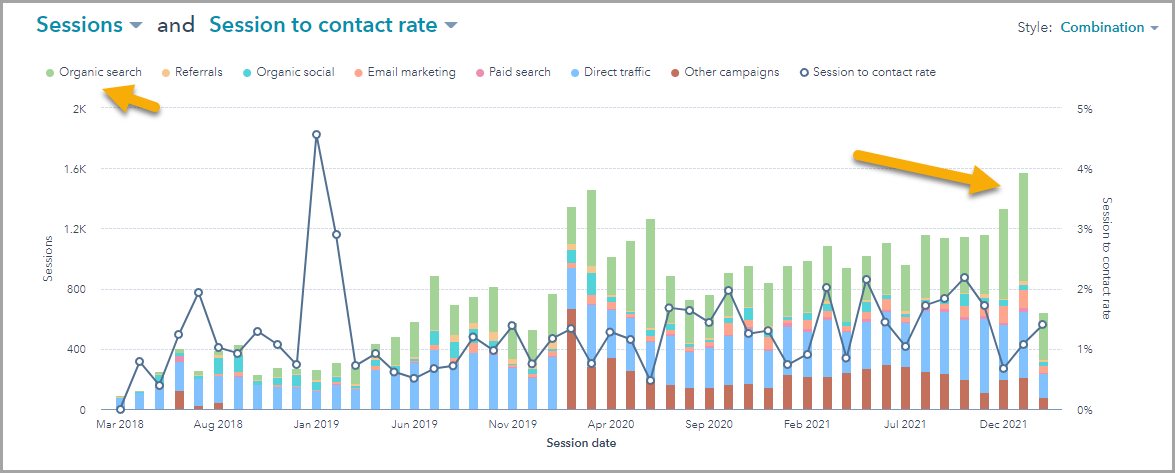 You can easily see over time how your website has been doing with Organic Search results by only selecting Organic in the below area.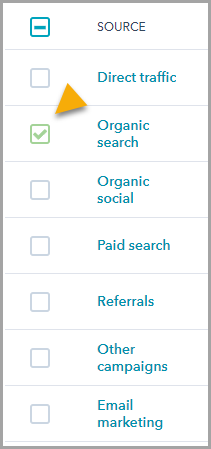 See Orange Marketing since the beginning of its short life. We aren't up to 1,000 organic searches a month and we publish content like crazy. Of course, we compete against HubSpot and every HubSpot agency, so we have a few excuses. But, it's not easy. If you have a niche industry, niche geography, etc. you can do really well, really quickly. We cannot.