Here are the Sales Training Setup Tasks:
Here is the HubSpot Sales Starter Document:
https://docs.google.com/document/d/1gDjUeIeTi2a6Ku6AreMTEC6xv_0Mj-ol1yMbi9zTKw4/edit#
HubSpot Sales Software Training
There are some excellent Video Demos on different aspects of HubSpot
We recommend you go through all the Lessons, can be completed in about 1.5 hours.
https://academy.hubspot.com/courses/hubspot-sales-software
1. Setup your HubSpot account
Setup your HubSpot email signature
Customize Email Signature in HubSpot:
https://knowledge.hubspot.com/articles/kcs_article/account/how-do-i-add-an-email-signature-for-the-crm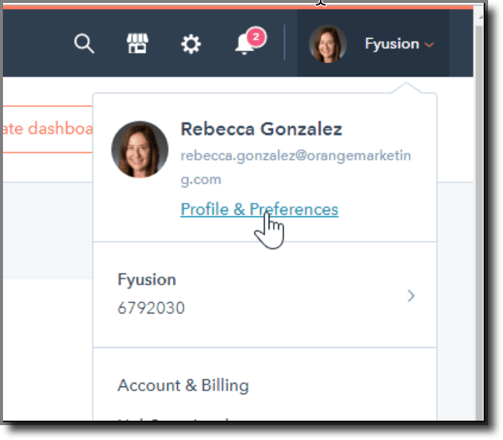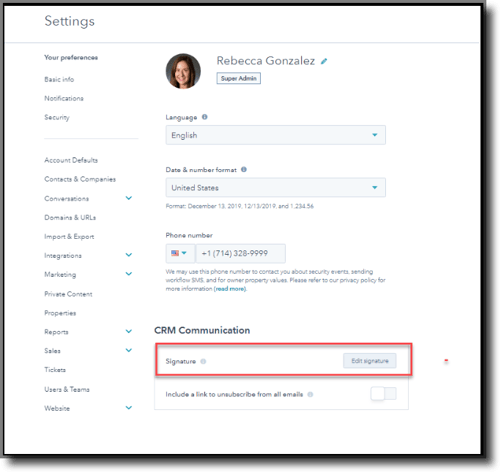 Customize individual user settings
https://knowledge.hubspot.com/account/change-your-language-and-region-settings
You can customize the language and date and number format settings for your individual user in HubSpot. To do so:
In your HubSpot account, click your account name in the top right corner, then click Profile & Preferences.
Click the Language dropdown menu and select one of the supported languages. HubSpot is currently available in six languages (English, Brazilian Portuguese, French, German, Japanese, and Spanish). Changing this setting allows you to use the HubSpot interface in your preferred language.
If you change your language to something other than English, your date and number format location will automatically be set based on the selected language. Click the Date & number format dropdown menu to select a different region.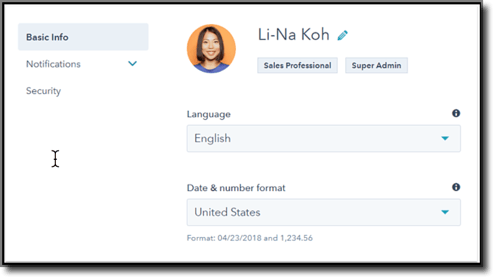 2. Install HubSpot Sales and connect your inbox
Another option to always get emails into HubSpot is Bccing your HubSpot inbox.
BCC address
Find your HubSpot id: To find the Hub ID of your existing HubSpot account: In the upper right, click your account name in the upper right. In the dropdown menu, under your account name, you can find your existing HubSpot account's Hub ID.
**Make sure you change the HubSpot ID in the email address and URL below
** "Your HubSpot ID"@bcc.hubspot.com
For example: 6824908@bcc.hubspot.com
To log outgoing emails into your CRM, BCC this email address when you send an email. Emails BCCed to this address will be attached to any matching contacts. If no contact is found, a new one will be created.
***These are the log and track settings: https://app.hubspot.com/crm-settings-email/"your hubspot id here"/email/log-track
Example:
https://app.hubspot.com/crm-settings-email/6824908/email/log-track
3. How to create a deal in HubSpot
You can create a deal from inside a Contact record, or from the deal board itself.
CONTACT RECORD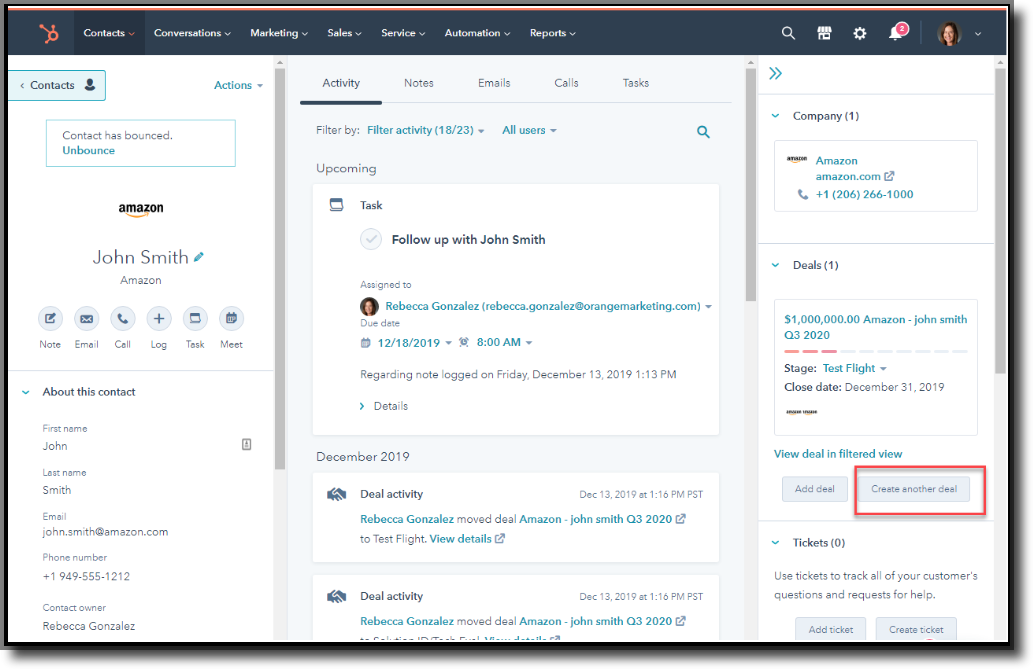 DEAL BOARD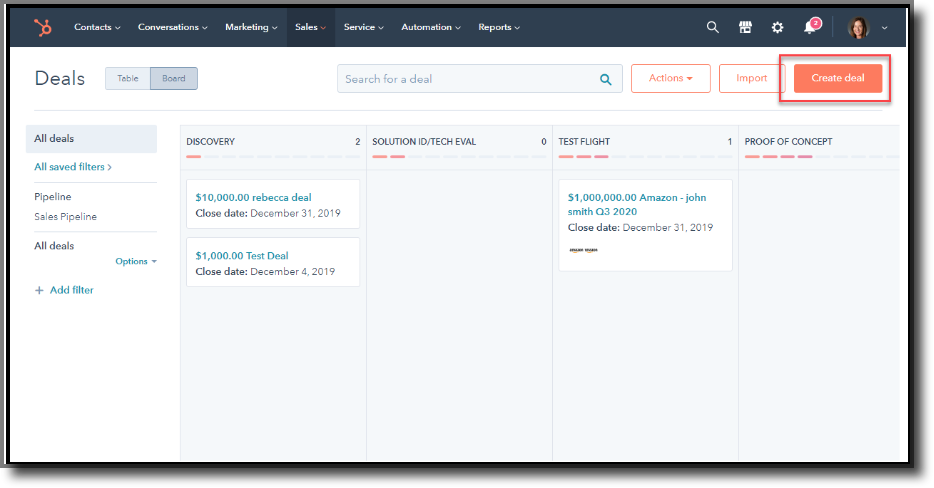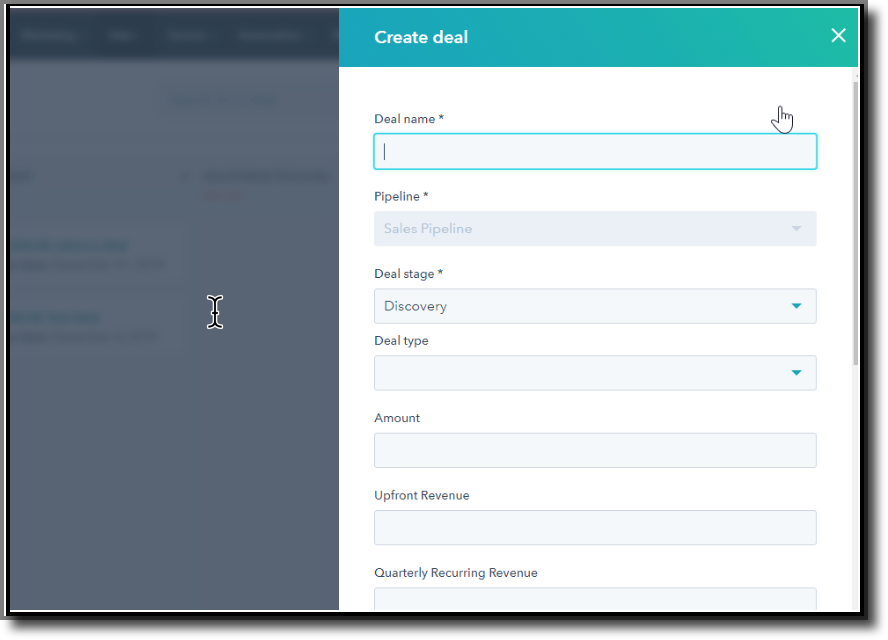 4. Important sales tools
Meetings, Tasks and Calls should be investigated first.
5. Sales team prospecting tools
Templates and Sequences are so important for Sales Team Member productivity. Basically, you can get the functionality of mass emailing with Sequences, and automated emailing if customers do not respond to outreach.
A definition of a Sequence maybe 5 emails and 5 calls to one prospect to get them to respond.
6. HELP
Know that HubSpot is really well indexed out there on Google. If you type "HubSpot" and then your question, your answer will likely come up, many times with screenshots and videos.
-------------------------------------
Here is the Sales Training Email Template:
https://app.hubspot.com/templates/4373496/edit/10125627?page=1&q=sales
Here is a copy of the Sales Training Email Template:
You should have received an invitation to the training session Friday morning. Please complete the following "homework" in advance. Please let me know if you have trouble accessing your HubSpot account, or need a new account setup.